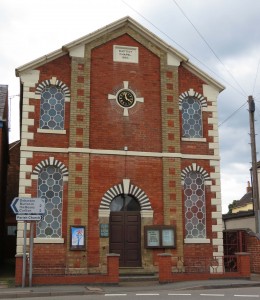 Leicestershire has a long and proud history of religious diversity: the teachings of John Wyclif, rector of Lutterworth between 1374-84, were condemned by the Pope; Selina, Countess of Huntingdon, of Donington Park, founded a new religious denomination during the Evangelical Revival; in 1835, Mount St Bernard Abbey became the first monastery to be established in England after the Reformation, and the 2011 census showed that Leicester had the highest proportion of Hindus in any part of England outside London.
This project
For this project, we want to collect information about the history of Leicestershire's religious communities, other than those connected to the parish church or Church of England (which will be a separate project of its own). This is a project that anyone can join, as no experience of historical research is needed.
There are two types of information we want to collect, and you are welcome to help us with one or both of these tasks. The towns and villages we would most like to record are listed at the end (and regularly updated as information is received, so efforts are not duplicated), but we can also accept information from other Leicestershire places.
The information you collect will be used to create a new web resource and photographic record of religious buildings, and will form the basis of an important part of the town and village histories that we shall publish online and in print.
(1) Suitable for those who like exploring towns and villages and looking at buildings
We would like brief details of the religious communities who worship in each town or village now and the buildings that are, or have been, used for worship, other than the parish church.
Please download our sheet Religious Communities in Leicestershire and answer as many questions as possible for each religious building, and then return it to us, as indicated. Please note that a separate sheet should be completed for each building. If you don't have regular access to a computer, you may write the information on a piece of paper and post it to us.
You will also find information on this sheet about how to share your photographs with us.
(2) Data collection from printed sources: suitable for people with access to the internet or who can get to the county record office at Wigston (and, ideally, who have access to a computer with word-processing software, e.g. Microsoft Word)
Trade directories can provide valuable information about religious congregations and their buildings in the late 19th and early 20th centuries. Many of these trade directories are now available online. We would like to recruit volunteers to collect this information for us in a specific way that will make it easy for us to use when populating the new web resource and when writing parish histories.
Please see our guidelines for details of how we would like this information to be collected, which directories to use and where you can find these.
If this does not appeal but you would like to help the Victoria County History project in Leicestershire in another way, please see our page of other volunteering opportunities, including an exciting new Charnwood project, which is due to start in summer/autumn 2013.
The following Leicestershire towns and villages are of the most interest to us:
Ashby Magna
Ashby Parva
Aston Flamville
Bitteswell
Catthorpe
Cossington
Cottesbach
Croft
Dishley-cum-Thorpe Acre
East Norton
Enderby
Frowlesworth
Gilmorton
Hose
Huncote
Kilby
Kimcote
Knossington
Long Clawson
Misterton
Narborough
North Kilworth
Peatling (Magna and Parva)
Rearsby
Sapcote
Seagrave
Sharnford
Shawell
Shearsby
Skeffington
South Croxton
South Kilworth
Syston
Thorpe Satchville
Thrussington
Thurmaston
Tilton-on-the-Hill
Tugby
Twyford
Wanlip
Whetstone
Willoughby Waterleys