We are Leicestershire Victoria County History Trust, a registered charity.
Our aim is to research and publish the history of every town and village in Leicestershire, from earliest times to the present day.
This is part of a great national project which began towards the end of the reign of Queen Victoria, who accepted the dedication of the history. Since then, over 6,300 parish histories have been produced for places across England, each covering more than 1,000 years of history. Our aim is to ensure Leicestershire is fully represented in this national series.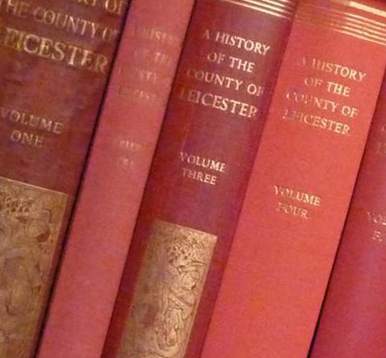 So far, Leicestershire has five of the iconic 'big red books', covering general themes in the county's history, and more detailed accounts of the city and 43 towns and villages in south-east Leicestershire, including Market Harborough and surrounding villages. These were published between 1907 and 1964, and the parish histories can be read online. Leicestershire Victoria County History Trust was formed in 2008 to continue the series. Working with volunteers across the county, we have published paperback histories of Castle Donington and of Buckminster and Sewstern, and Ibstock will be published very soon. We have also published online histories of Kirby Bellars, Leire and Welby, and some shorter sections for a number of villages near Leicester.