We're recruiting
We are currently raising money towards the cost of completing the research and writing our first 'Red Book' since 1964, which will focus on the market town of Loughborough.
We wish to complete a short piece of research with a new group of volunters on public health in Loughborough, focusing on the period between 1840 and 1930.
This is a short fixed-term contract for just 20 hours of work over 10 weeks.
More details on our VCH News page
Help us to celebrate 120 years of VCH History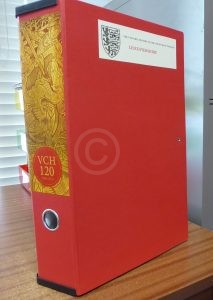 Help us to celebrate the VCH's 120th birthday!
We want to fill this box with objects which tell the history of Leicestershire. What should we chose?   We want the objects to reflect as wide a range of periods (anything from prehistory to 2019), Leicestershire places, people, communities and historical topics as possible.
The objects can be serious or quirky, and some may be surprising to people who don't know Leicestershire. The only criteria is that they must not be unique, irreplaceable, of great value or perishable, and they all have to fit inside the box (together), so they can't be large or bulky.
We welcome your ideas. A small panel will select a representative selection from these in August, and will then obtain the objects. Our selection will be displayed (with the boxes of other counties) at an event in London in November, and then in an online virtual display on the VCH website.
We don't want objects now, just your ideas. Be imaginative. How can we best tell Leicestershire's rich and diverse history through a few small items of low value? We look forward to hearing your ideas!
Loughborough 'Red Book' planned
We are planning a new project, for the first Leics 'big red book' since 1964. This will be a history of the town of Loughborough and perhaps half a dozen or so adjacent parishes.
Do you think this is a good idea? Why?
What do you think this volume should contain?
Which neighbouring parishes do you think should be included?
We are holding a meeting on 15 May where we hope those with an interest in Loughborough's history will come along to hear more about what we want to do, and join the discussion to help to shape the content of this volume. Booking essential, at https://www.eventbrite.co.uk/e/loughborough-history-volume-tickets-60022519973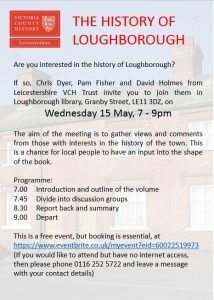 2018 Newsletter now available
It's been another busy year for the Leicestershire VCH team. Following on from the publication of our second paperback, the histories of Buckminster and Sewstern, in October 2017, we have been focusing our attentions on the parishes of Ibstock (in NW Leicestershire), Lutterworth (in S Leicestershire) and Welby (in the NE). The year also saw the successful conclusion of our Charnwood Roots project, which has involved 650 volunteers, who donated 20,000 hours of time. We have also sadly said farewell to Dr Julie Attard, who led this project. Find our more in our 2018 Newsletter.
See https://www.victoriacountyhistory.ac.uk/counties/leicestershire/news/leicestershire-vch-newsletter-0
Posted 12 October 2018
************************************
Leicestershire VCH Trust welcomes a new President
When Leicestershire VCH Trust was formed in 2008, we were delighted that Jennifer, Lady Gretton, HM Lord-Lieutenant of Leicestershire, accepted our invitation to become our President. Lady Gretton stood down as Lord-Lieutenant this year, and has also stood down from her office as President of Leicestershire VCH Trust. We are very grateful for everything she has done over the last ten years to help and support our project, to help us to bring it to wider attention across the county. She  has  attended  many  of our events including the official launch of the Trust at  Quenby Hall in 2009, the launch of our first book last year at Castle Donington and hosted a memorable day at Beaumanor with the Herrick Family Association from the USA.
We are very pleased that Mike Kapur OBE, the new Lord-Lieutenant of our county, has agreed to become our new President. We extend a warm welcome to him, and look forward to informing him of our achievements and future plans.
Posted 10 October 2018
******************
Could you be our new fundraising officer?
Leicestershire Victoria County History Trust was formed ten years ago to raise money to cover the costs of training volunteers, researching parish histories and publishing the results of that research. We have achieved a great deal since then, including the publication of two paperbacks (see below). With the help of the Heritage Lottery Fund we have also recruited hundreds of volunteers from all walks of life, who have contributed to research into the histories of 24 parishes in the Charnwood area. This very successful Charnwood Roots project has now come to a close, and we are keen to analyse and publish this research, starting with a volume on the town of Loughborough and a few surrounding parishes.
We wish to recruit a fundraising officer to help us raise money to enable us to publish our research. Our ideal candidate would have experience of raising funds for charities, will be outgoing and will have an interest in history. This is a paid position, for a fixed term of two years, subject to satisfactory progress against specific targets.
The closing date for applications is Monday 7th May 2018. A role description and details of how to apply can be found at https://www.victoriacountyhistory.ac.uk/counties/leicestershire/news/could-you-be-our-new-fundraising-officer
************
We have now published a history of Buckminster and Sewstern, in north-east Leicestershire. The book was launched at a drinks reception in Buckminster Village Hall on 17 October 2017. Copies are available to purchase by cheque at a discounted price of £9 plus £2 UK P&P for a limited period direct from Leicestershire VCH Trust, 5 Salisbury Road, Leicester, LE1 7QR. It can also be purchased by card from our publishers. An e-book version is also available.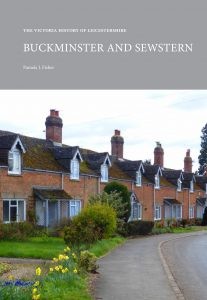 Our paperback history of Castle Donington has now been published, and was very well received at our fantastic launch event held at Donington Hall on 22 March 2017. The book contains 133 pages and tells the story of this north-west Leicestershire village from earliest times to the present day. You may have visited the airport or Donington Park, but did you know that Castle Donington was once a medieval market town, that three lords of the manor were executed in the 14th century, or that there were riots and a burning in effigy in the 18th century ? You can purchase a copy online, or it is available as an e-book.