Could you be our new fundraising officer?
Leicestershire Victoria County History Trust was formed ten years ago to raise money to cover the costs of training volunteers, researching parish histories and publishing the results of that research. We have achieved a great deal since then, including the publication of two paperbacks (see below). With the help of the Heritage Lottery Fund we have also recruited hundreds of volunteers from all walks of life, who have contributed to research into the histories of 24 parishes in the Charnwood area. This very successful Charnwood Roots project has now come to a close, and we are keen to analyse and publish this research, starting with a volume on the town of Loughborough and a few surrounding parishes.
We wish to recruit a fundraising officer to help us raise money to enable us to publish our research. Our ideal candidate would have experience of raising funds for charities, will be outgoing and will have an interest in history. This is a paid position, for a fixed term of two years, subject to satisfactory progress against specific targets.
The closing date for applications is Monday 7th May 2018. A role description and details of how to apply can be found at https://www.victoriacountyhistory.ac.uk/counties/leicestershire/news/could-you-be-our-new-fundraising-officer
************
We have now published a history of Buckminster and Sewstern, in north-east Leicestershire. The book was launched at a drinks reception in Buckminster Village Hall on 17 October 2017. Copies are available to purchase by cheque at a discounted price of £9 plus £2 UK P&P for a limited period direct from Leicestershire VCH Trust, 5 Salisbury Road, Leicester, LE1 7QR. It can also be purchased by card from our publishers. An e-book version is also available.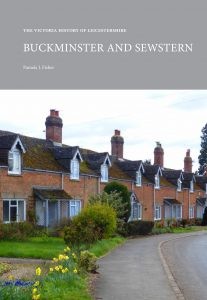 Our paperback history of Castle Donington has now been published, and was very well received at our fantastic launch event held at Donington Hall on 22 March 2017. The book contains 133 pages and tells the story of this north-west Leicestershire village from earliest times to the present day. You may have visited the airport or Donington Park, but did you know that Castle Donington was once a medieval market town, that three lords of the manor were executed in the 14th century, or that there were riots and a burning in effigy in the 18th century ? You can purchase a copy online, or it is available as an e-book.