Diseworth is in north-west Leicestershire, about one mile south of East Midlands airport.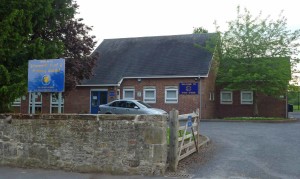 Daily schools for poorer families in 1818 (population 656 in 1811)
There were two weekday schools:
The Free School, funded by a legacy of £10 p.a. plus £13 p.a. from the parish, with 50-80 pupils and a master paid £23 p.a.
The Six Scholars School, a branch of the Langley charity school at Ashby de la Zouch, with 9 pupils and a mistress, who was paid 6s. p.a. for each scholar. The children were only taught to read.
Richard Williams reported that 'The poor would be thankful for the means of instructing their children'.
Daily schools in 1835 (population 764 in 1831)
Three daily schools:
The Free School, mentioned above, with 30 male and 20 female pupils. The master was now paid £10 p.a. but was provided with a house. All the children were taught to read without charge, but had to pay to learn writing and accounts.
Another school endowed with annual income of £3, with 10-15 female pupils, 9 of whom learn to read free, but have to pay for other teaching. This is clearly the 'Six Scholars school' mentioned above.
A school which commenced in 1831, with 12-15 female pupils, who paid fees.
Daily schools connected to the Anglican Church in 1846-7
One endowed day school, described as 'virtually secured', with 27 male and 11 female pupils. There was one paid master, whose house was provided, and one paid assistant master. The master was paid £14 10s. and the total cost of the school was said to be £19, covered by the endowment and payments from the pupils.
Comments: 'There are in this parish ninety children (nearly all of the labouring classes) of an age requiring education. There is no one in the parish who is able to contribute any thing towards either the Week-day or Sunday-school. The endowed school by no means answers the object of the endowment; and owing to a dispute between the trustees and the parishioners, the Incumbent is prevented making an appeal to the National Society.' More research is required to establish what has happened here.
Sunday schools
In 1818
There were three Sunday schools: Anglican with 30 pupils, Baptist with 50 pupils and Methodist with 46 children.
In 1835
Three Sunday schools, supported by voluntary donations: Anglican with 7 male and 8 female pupils, General Baptist with 34 male and 30 female pupils, and Wesleyan Methodist with 51 male and 52 female pupils.
Anglican Sunday school in 1846-7
One Sunday school, with 30 male and 29 female pupils, one assistant master who was paid £2 10s p.a., and 2 male and 3 female teachers who gave their time free of charge. The total annual cost of running the school was said to be £5, covered by voluntary subscriptions.
In 1851 (population 617)
On Sunday 30 March 1851, 43 people attended the Anglican Sunday School in the afternoon and 13 in the evening, while 43 attended the General Baptist Sunday School and 26 attended the Wesleyan Sunday School, which were both held in the afternoon.
Sources
Education of the Poor Digest, Parl. Papers 1819      (224)
Education Enquiry, Parl. Papers 1835 (62)
National Society …, Result of the returns to the General Inquiry made by the National Society, into  the state and progress of schools for the education of the poor … during the years 1846-7 (London, 1849).
The National Archives, HO 129, 1851 Ecclesiastical census.