Groby is approximately 5 miles north-west of Leicester on the A50. Until 1896 it was part of the parish of Ratby. Its character and population has changed substantially since 1925, when the estate of the Earls of Stamford and Warrington was sold at auction.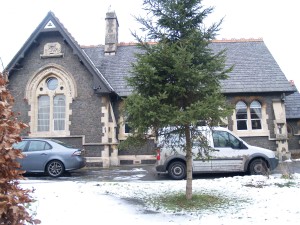 Daily schools for poorer families in 1818 (population 322 in 1811)
One day school with about 60 pupils
Daily schools in 1835 (population 335 in 1831)
The only details available are for the whole parish, including Ratby and the villages of Botcheston and Newtown Linford (population 986 in 1831). There was one daily school, with 31 male and 9 female students, including 7 male and 5 female pupils whose parents paid fees, with the others receiving free schooling, paid for by subscription. It is likely that this school was in Groby.
Daily schools connected to the Anglican Church in 1846-7
There was an Anglican day school for whole parish (probably in Groby), with 51 male and 4 female pupils. The school and the teacher's house were said to be 'virtually secured'. There was one master, who was paid £60 10s., and one mistress. Costs were covered by subscriptions and payments from the pupils.
There was also an infants' school in Groby, with 40 male and 32 female pupils. There was one master, paid £21 8s. p.a. funded by subscriptions and payments from the pupils.
Sunday schools
In 1818
None. The parish church was in Ratby, and the children might have attended the Sunday school there, which had 90 pupils
In 1835
The details are for the whole parish, where there were two Sunday Schools, supported by voluntary contributions, with 56 male and 63 female pupils. These were probably the two Sunday schools recorded in 1818 in Ratby and Newtown Linford
Anglican Sunday school in 1846-7
Sunday school in Groby, with 47 male and 38 female pupils, and one master paid £9 5s p.a.. The total annual costs of the school were £15, covered by voluntary subscriptions.
In 1851 (population 441)
On Sunday 30 March 1851, 74 chidren attended the Anglican Sunday School in the morning. The Wesleyan Methodist chapel in the village did not have a Sunday school at that date.
Sources
Education of the Poor Digest, Parl. Papers 1819 (224)
Education Enquiry, Parl. Papers 1835 (62)
National Society for Promoting the Education of the Poor in the Principles of the Established Church, Result of the Returns to the General Inquiry made by the National Society, into the state and progress of schools for the education of the poor … during the years 1846-7, throughout England and Wales (London, 1849).
1851 Ecclesiastical census