The village of Thornton is nine miles north-west of Leicester and is mainly notable today for its reservoir, which attracts walkers and anglers. The parish contains the villages of Bagworth and Stanton under Bardon.
Thornton
Wesleyan Methodists
The Wesleyan Methodist chapel was at the northern end of Main Street, adjacent to the path to the mill. It was built in 1828, at a cost of £200. In 1829 there were around 150 people who attended services there. In 1851 it was described as having 145 free seats, 86 other seats and room for 30 to stand. On Sunday 30 March that year, 86 people attended the afternoon service and 103 were present in the evening. There was a also Sunday school, and both the morning and afternoon sessions were attended by 56 people. The chapel is no longer there.
General Baptists
A General Baptist chapel is listed within Thornton in some trade directories, and in the 1851 ecclesiastical census. It is probable that this was the chapel that stood (and still stands) between Thornton and Bagworth: directories which list a Baptist chapel in Thornton do not mention one in Bagworth, while those listing the chapel within Bagworth do not also include one in Thornton. As earlier records place the Baptist congregation within Bagworth, the details appear below, within the entry for that village.
Bagworth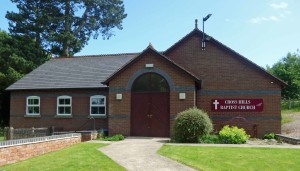 General Baptists
The General Baptist chapel (now Cross Hills Baptist Church) stood on the road linking Thornton and Bagworth. According to the signboard on the present (modern) building, this church was founded in 1796. Details of their first meeting place have not been traced, but a General Baptist chapel was built in 1813-14, at a cost of £400. In 1829 it was recorded that 250 General Baptists met in Bagworth. In 1851, their chapel is recorded as having room for 350 seated worshippers plus another 50 standing, although by then regular attendance was far below that figure. On census Sunday in March 1851 there was just a single service, in the afternoon, with just 67 people present. There was also an active Sunday school, which 68 people attended that morning and 65 in the afternoon.
Primitive Methodists
A Primitive Methodist chapel was built in Bagworth in 1904, and can be identified from old Ordnance Survey maps. The building closed in 1980, due to subsidence.
Stanton under Bardon
Congregational
Two dates are given by different sources for the building of this chapel, 1833 and 1858. It had around 120-150 sittings. The chapel is not shown by the Ordnance Survey until the 1929 revision, when it is on a site that had been empty on earlier maps. Its previous location is currently unknown.
Wesleyan Methodists
This chapel was built in 1833 to seat 100 worshippers. The Ordnance Survey map shows it to be in Main Street, close to where the present Without Walls Christian Fellowship building (Free Church) now stands. On 30 March 1851 82 people attended the afternoon (only) service, filling the 82 free seats to capacity. There was also a Sunday school which 36 children attended.
Return to Protestant Nonconformity: A-Z
Sources
Leicestershire trade directories
1829 Meeting House return
1851 Ecclesiastical census
Ordnance Survey maps