Oadby is located on the south-eastern border of the city of Leicester.
Daily schools for poorer families in 1818 (population 766 in 1811)
There were no daily schools for poorer families at this time, however curate J. Valentine noted that the poor were anxious to have the means to educate their children.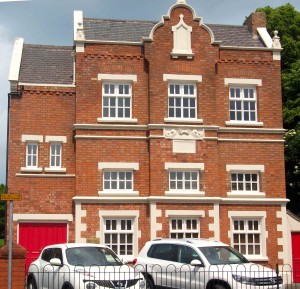 Daily schools in 1833 (population 1023 in 1831)
Five daily schools in the village, containing 82 children of both sexes. This education was paid for by their parents.
Daily schools connected to the Anglican Church in 1846-7
One infant school, described as 'not secured', with 30 male and 40 female pupils. There was one paid mistress who was paid £23, and the total annual cost of the school was £40, covered by an endowment and payments from the pupils. It was commented that the schoolroom was 'very small, and is very unfit for the purpose'. There were plans to build a National School with a master's residence and an infants' schoolroom, which would cost around £500. The National Society had voted a grant of £75 towards this.
Read more about the History of Oadby's schools
Sunday schools
In 1818
A Sunday school in which 117 children attended. This school was more than likely connected with St. Peters Church.
In 1833
There are now two Sunday schools. One connected to the established church included 65 males and 85 females. The other, for Dissenters (of unspecified denomination) instructed 34 males and 36 females. Both of these schools were supported by annual subscriptions.
Anglican Sunday school in 1846-7
54 males and 55 females attended the Anglican Sunday school, which had a paid master and a mistress running the school, plus 1 male and 5 female gratuitous tutors. The total annual expense of the school was £10, which was covered by subscriptions.
In 1851 (population 1196)
The Anglican St Peters Church Sunday school had 150 Sunday scholars attending in the morning and afternoon of 30 March 1851. Although there were three nonconformist churches in Oadby at that time (General Baptist, Wesleyan Methodist Association and Primitive Methodist) which recorded their church attendance in the census, none made a return for a Sunday school.
Return to A History of Leicestershire Schools: A-Z
Sources
Education of the Poor Digest, Parl. Papers 1819 (224)
Education Enquiry, Parl. Papers 1835 (62)
National Society for Promoting the Education of the Poor in the Principles of the Established Church, Result of the Returns to the General Inquiry made by the National Society, into the state and progress of schools for the education of the poor … during the years 1846-7, throughout England and Wales ( London, 1849).
1851 Ecclesiastical census