'A parish, with a village and two townships, in the Blaby district, Leicester. Acres, 2980. Real property, £5914. Population, 698. The church was recently restored. There are a national school and charities £10.' J.M. Wilson, Imperial Gazetteer of England and Wales (1870-72)
Daily schools for poorer families in 1818 (population 469 in 1811)
There was school in which 16 children received instruction, funded by an endowment of £200 in Bank of England funds, with the annual interest of £10 paid to the master for his instruction. There was also one other day school for poorer children, with 46 pupils. Henry Hoare commented, 'the poor are generally without the means of educating their children, though desirous to do so'.
Daily schools in 1833 (population 636 in 1831)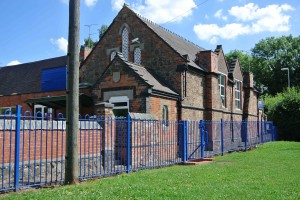 In 1833 there were two daily schools, one with 58 males and 32 females, partly supported by an annual endowment of £7 10s. and partly by payments by the children; in the other school 16 females were instructed at the expense of their parents.
Daily schools in 1838
The Charity Commissioners report, published in 1839, provides further information about the schools in Thurlaston, and helps to clarify why the small endowed school identified in 1818 appears to have expanded by 1833 to educate more pupils. The original endowment of £200, under the will of William Smart, dated 6 February 1802, was to be used to pay a schoolmaster to teach 16 poor boys and girls, resident in the parish, to read and write. The investment was originally made at 5%, but later reduced to 3.5%, hence the reduction in income between 1818 and 1833. No schoolroom was provided, but one was later erected on glebe land at the private expense of rector Joseph Arkwright. The master also taught up to 60 other children, paid for by a subscription from the rector, curate Richard Taylor, the principal parishioners and fees by some of the children's parents. They were all taught reading, writing and the Anglican catechism. The second school mentioned in 1818 may be a separate school or may relate to additional pupils taught (perhaps in the same room) by the master, as the return asked for pupils taught under an endowment to be separately identified. The second school listed in 1833 was probably a completely separate dame school or private school. How long it continued is not known.
Daily schools connected to the Anglican Church in 1846-7
There were now 32 boys and 27 girls attending on weekdays and Sundays, with a further 4 boys and 9 girls attending on weekdays only, plus 25 boys and 17 girls attending on Sundays only. There was one paid master and one paid mistress, plus two unpaid male and four unpaid female teachers. The master received a total of £54 12s. including payment from the children's parents. The school-room was said to be 'virtually secured'.
Daily schools since 1851
Other records indicate that a church school was first provided in 1833. It moved to a new building on Desford Road in 1853, which could accommodate 70 children of both sexes. The building cost £1,000. An infants' school was added to the elementary school in 1855 taking the capacity to 100 children.
Thurlaston Church of England Primary School is now a voluntary aided school.
Sunday schools
In 1818
In 1818 there was a Sunday-school consisting of 80 children, and the master received 8 guineas annually. It was supported by voluntary subscription.
In 1833
By 1833 there were two Sunday schools. The Anglican Sunday school educated 63 males and 49 females, while a Sunday school connected to the Baptist church contained 30 males and 41 females. In both cases, all instruction was provided free of charge.
Anglican Sunday school in 1846-7
This was integrated into the day school, and details are included above.
In 1851 (population 796)
On 30 March 1851, 88 people attended both the morning and evening sessions of the Anglican Sunday school. The Baptist Church did not separately enumerate  its Sunday scholars on that day.
Return to A History of Leicestershire Schools: A-Z
Sources
Education of the Poor Digest, Parl. Papers 1819 (224)
Education Enquiry, Parl. Papers 1835 (62)
Report of the Charity Commissioners, Parl. Papers 1839 (163)
National Society for Promoting the Education of the Poor in the Principles of the Established Church, Result of the Returns to the General Inquiry made by the National Society, into the state and progress of schools for the education of the poor … during the years 1846-7, throughout England and Wales ( London, 1849).
1851 Ecclesiastical census