Coleorton is a scattered settlement in the north-west Leicestershire coalfield area, about four miles east of Ashby de la Zouch and ten miles west of Loughborough.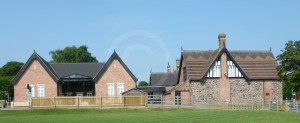 Day schools before 1800
Lord Viscount Beaumont, in his will dated 20 August 1701, bequeathed the tithes of the neighbouring settlement of Swannington to provide a schoolhouse and hospital [i.e. almshouse] for 6 poor widows. The master received the entire income of the charity, after paying an allowance in cash, coals and clothing to the widows. He was to teach children to read, write and cast accounts, free of charge. After Lord Beaumont's death, the trustees providing a building of eight rooms on the ground floor, being six for the widows and two for the schoolmaster, and two large rooms above, one for the boys' school and one for the girls' school. Each of the schoolrooms could accommodate 60 children.
Day schools in 1818 (population 919 in 1811)
Lord Beaumont's school was educating 82 boys and 68 girls. The master and his assistant in the girls' school received 80 guineas annually. A further 40-50 children were instructed in dames' schools. It was said that the poor were amply supplied with the means to educate their children
Day schools in 1833 (population 848 in 1831)
The only school that appears to have been in Coleorton at this date was Lord Beaumont's school, which now contained 66 boys and 39 girls, and also met on Sundays.
Endowed school in 1839
The master, who had been appointed in 1820, received an annual salary of £65, an allowance of 12½ tons of coal and occupied the rooms rent free. He was expected to instruct as many children from the parish as the rooms would accommodate. The children had to be over 6 years, and they seldom remained beyond the age of 12. In 1839 there were 50 boys and 40 girls registered, although the average was said to be 60 boys and 50 girls. The master was allowed to take paying pupils as well if there was room – the number of these rarely exceeded 6. The girls were taught by the master's wife whose services were paid from within her husband's salary. The charity funded all books and stationery.
Anglican schools in 1846/7
The endowed school was divided into boys' and girls' divisions. There were 43 boys and 42 girls who attended on weekdays and Sundays, plus 14 boys and 10 girls who were there on weekdays only and 12 boys and 14 girls who only attended on Sundays. Two boys and 9 girls attended on Sundays and weekday evenings, and one more girl was present on weekday evenings only. The costs of the school were wholly covered by the income on the endowment, and a comment was made that 'There are no educational wants in this parish'.
Sunday schools
1818
None mentioned
1833
The endowed school also met on Sundays, when 16 males and 25 females were enrolled.
1846/7
See above
1851 (population 549)
The only Sunday School was connected to the parish church. It had a morning and afternoon class which on 30 March 1851 were attended respectively by 83 and 79 Sunday scholars.
Sources
Education of the Poor Digest, Parl. Papers 1819 (224)
Education Enquiry, Parl. Papers 1835 (62)
Reports of the Commissioners of Charities, Parl. Papers 1839 (163)
National Society for Promoting the Education of the Poor in the Principles of the Established Church, Result of the Returns to the General Inquiry made by the National Society, into the state and progress of schools for the education of the poor … during the years 1846-7, throughout England and Wales ( London, 1849).
1851 Ecclesiastical census