Ibstock is in north-west Leicestershire approximately 15 miles north-west of Leicester.
Daily schools for poorer families in 1818 (population 836)
In 1818 the parish included the separate villages of Hugglescote and Donington le Heath. There were three dames' schools across the parish, and also a small endowment which paid for two children to be educated. There was no schoolroom attached to this, and the premises where the master lived and from which the school operated, were described as being in a 'very dilapidated state'. The poor were 'very desirous' for their children to receive an education, and it was hoped to collect enough donations to build a school which would be run on the Madras system.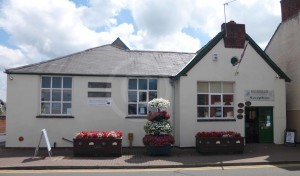 It appears they did not have to wait long, as the surviving National School building in the village bears the date 1818.
Daily schools in 1833 (population 1,044)
There were three infants' schools, all funded by fees from the parents. One had 6 male and 5 female pupils; a second, established in 1826 had 10 boys and 5 girls registered; the third, established in 1832, had 7 male and 3 female pupils. There was also a National School, supported by subscription, including an annual payment of £40-50 from the rector. This was open on weekdays and Sundays, and had 80 male and 50 female pupils.
Daily schools connected to the Anglican Church in 1846-7
The parish did not submit a return to this inquiry.
Sunday schools
In 1818
None is listed.
In 1833
There was a day and Sunday National School, mentioned above, with 80 male and 50 female pupils, a General Baptist Sunday School with 32 male and 48 female pupils and a third Sunday school established by the Wesleyan Methodists in 1827, with 13 male and 12 female pupils. The two nonconformist Sunday schools were supported by contributions.
Anglican Sunday school in 1846-7
The parish did not submit a return to this inquiry.
In 1851 (population 1,188)
There were three Sunday schools in 1851. On Sunday 30 March there were 90 present at both morning and afternoon lessons in the Anglican Sunday school. The Sunday school of the New Connexion General Baptist Church was only open in the afternoon, when 80 people attended. The Wesleyan Methodists did not return figures for that day, but reported that on average they had 50 Sunday scholars on Sunday afternoons and 20 in the evening.
Sources
Education of the Poor Digest, Parl. Papers 1819 (224)
Education Enquiry, Parl. Papers 1835 (62)
National Society for Promoting the Education of the Poor in the Principles of the Established Church, Result of the Returns to the General Inquiry made by the National Society, into the state and progress of schools for the education of the poor … during the years 1846-7, throughout England and Wales ( London, 1849).
1851 Ecclesiastical census