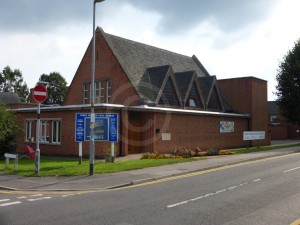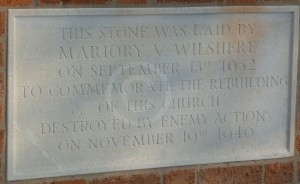 Kirby Muxloe is a village on the west side of Leicester.
The parish responded to the 1829 return of meeting houses, by saying there were no religious meetings held in the village,[1] and no return was made to the 1851 religious census.
Baptists/Free Church
A Baptist chapel was erected in 1881,[2] which was rebuilt in 1897.[3] The village had increased rapidly in size, from 382 in 1881 to 554 in 1891 and to 820 by 1901, and had changed in character through the building of many villa-type houses, many of which were bought by prominent Leicester industrialists and gentlemen. Some of those men had existing connections with the ecumenical Victoria Road church in Leicester. The meeting's first preacher was a minister from Victoria Road, and the new church at Kirby Muxloe became ecumenical in outlook, soon becoming known as Kirby Muxloe Free Church. [4]
 The modern Free Church was built in 1952 to replace an earlier building destroyed by a German bomb on 19 November 1940 (see plaque above).
Return to Protestant Nonconformity: A-Z