Dadlington is a village in west Leicestershire, and was historically a chapelry within the parish of Hinckley.
Early nonconformity was strong, with Dadlington's minister, Mr Southwell, ejected from the Anglican church in 1662 for refusing to accept the Act of Uniformity.[1] We do not know where the illegal conventicles (religious groups) identified within the parish of Hinckley in 1669 met for worship,[2] but in 1676 the 63 people in Dadlington who were old enough to take communion included four men and four women who were identified as nonconformists.[3] Dissent soon faded away. By 1706 the curate reported no dissenters of any kind and no meeting house in Dadlington, although in 1712 the 17 families living in the village were said to include two families of Presbyterians.[4] Two meeting places were established at the homes of dissenters in 1732 and 1789 respectively, but there is no indication of the denomination.[5] By the 19th century, the only denomination recorded was that of Independents, and only then in very small numbers.
Independents/Congregationalists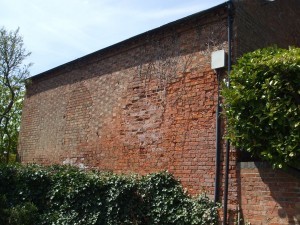 Independents are first recorded specifically on the 1829 Return for Religious Meeting Places, which counted them at 20. White's Directory of 1846 records the presence of a small Independent Chapel, but Independents were not enumerated on the 1851 Religious Census.[6] The only other source to mention them is Kelly's Directory of 1881, which records the presence of a small congregational chapel.[7]
Their meeting place still stands in 2016, but has become a farm building, with only the shadow of the Gothic-shaped former windows betraying the earlier use of this building.
Return to Protestant Nonconformity: A-Z
[1] R.H. Evans, 'Nonconformists in Leicestershire in 1669', Trans LAHS 25 (1949), p. 128
[2] R.H. Evans, 'Nonconformists in Leicestershire in 1669', Trans LAHS 25 (1949), p. 126
[3] A. Whiteman, The Compton Census of 1676: A Critical Edition (London, 1986), p. 331
[4] J. Broad (ed.), Bishop Wake's summary of visitation returns from the diocese of Lincoln, 1706-1715. Part 2, Outside Lincolnshire (Huntingdonshire, Hertfordshire, Bedfordshire, Leicestershire, Buckinghamshire) (Oxford, 2012), pp. 874-5
[5] Leicestershire and Rutland County Record Office (ROLLR), list of religious meeting places in Leicestershire, entries for Dadlington, QS 44/1/1, rot. 2 & QS 44/1/2.
[6] White, Hist. Gaz. & Dir. Leics. (Sheffield, 1846) p. 562
[7] Kelly's Dir. (1881) p. 512.