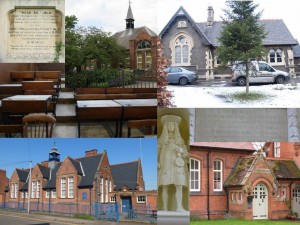 Many people are interested in the history of their village school, and the experiences of its pupils and teachers. This research guide, arranged into three chronological sections, will help you to find and understand the original sources that can tell you more about the history of your village school. These will help you to answer questions such as:
How old is our village school?
How many children attended?
What were Victorian school inspections like?
Why is our village school called a Church of England primary school?
Before turning to the original records, you should check if anything has already been written about your town or village school. Look in:
There will almost certainly be much more to find in documentary sources. This guide to finding and interpreting the documentary evidence is divided into three broad chronological sections:
Further reading:
Day schools
P. Horn, Education in Rural England, 1800-1914 (London, 1978) [or anything else by this author, e.g. The Victorian Country Child (Stroud, 1985), chapters 2-4; The Victorian and Edwardian Schoolchild (Stroud, 2010), chapters 1 and 6].
B. Simon (ed.) Education in Leicestershire, 1540-1940 (Leicester, 1968), especially the following chapters:

J. Simon, 'Was there a charity school movement? The Leicestershire evidence', pp. 55-100
B. Simon, 'Local grammar schools, 1780-1880', pp. 130-155.
M. Seaborne, 'William Brockington, Director of Education for Leicestershire, 1903-1947', pp. 195-224.

G.T. Rimmington, 'Leicestershire Board Schools, 1871-1903', Trans Leicestershire Archaeological and Historical Society, 52 (1976-7), pp. 53-61, also available online 
Architecture
M. Seaborne, The English School: Its Architecture and Organisation, volume I, 1370-1870 (London, 1971)
M. Seaborne and R. Lowe, The English School: Its Architecture and Organisation, volume II, 1870-1970 (London, 1977)
 Sunday schools
K.D.M. Snell and P.S. Ell, Rival Jerusalems: The Geography of Victorian Religion (Cambridge, 2000), chapter 9.
For a history of some individual schools in Leicestershire see A History of Leicestershire Schools: A-Z