Wesleyan Methodists had begun meeting in Ibstock by 1819, when Richard Chandler's house was registered with the county magistrates for holding public worship. We don't know where he lived, but many of Ibstock's farmhouses were in the village, rather than out in the fields. In 1823 the congregation had raised enough money to buy a piece of land on Melbourne Road, and a chapel was built on this site (not this building). By 1829 it was attracting a congregation of 100 people.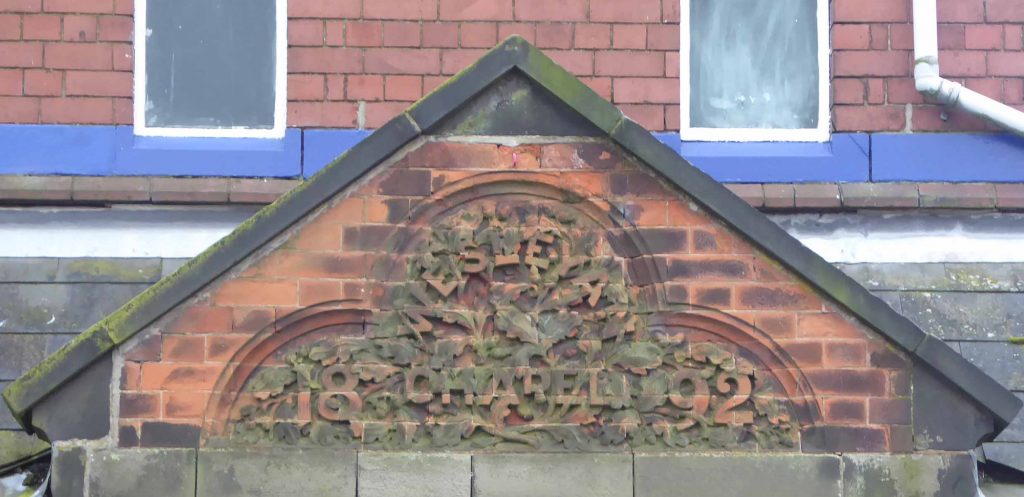 The original building was first enlarged in about 1840, to hold 145 people, and by 1851 about 120 people were attending services. Ibstock's population ballooned between 1861 and 1931, and the congregation outgrew the building. They chose to erect this new building around the old chapel's walls and then demolish the old building within. The architect was Arthur Wakerley from Leicester, and the date is recorded on the front gable: 1892, in this rather ornate design with oak leaves. The Sunday school also met in rooms within this building.
Date tablets from the 1870s to the early 1900s are common on buildings across this village, and tablets with intricate designs, dates and also bands of ornamental bricks can be seen on many houses in Ibstock and the surrounding villages. Fireclay lay between the seams of coal, and withstands high temperatures so complicated designs could be carved and would not lose their shape when fired. They were made in the local brickyards attached to the collieries.
From 1932, when the Wesleyan and Primitive Methodist Churches merged nationally, this building became Melbourne Road Methodist Church. It was renamed Ibstock Methodist Church in 1964, when the congregation from Curzon Street Methodist Church joined the congregation in this building.
A congregation still meets here every week (other than during Covid-19 restrictions), sometimes in one of the former Sunday School rooms within this building, to save heating such a large church. Times of services and other church activities can be found on the Coalville Christian Church Unity website.
That brings this tour to a close. We hope you've enjoyed it, and found it informative. The tour may be repeated in the real world in July 2021, so follow us on Twitter or Facebook (@LeicsVCHT, or use the links on this site) to keep informed about events, the work we are doing in other parishes around the county, and snippets about the county's history.
Our paperback history of Ibstock will be published before the end of 2020. We hope to hold a book launch when restrictions on large gatherings are lifted. You can register interest on this site to receive details when the book is available. It tells the history of Ibstock, from earliest times to the present day, and includes Battram and the Ellistown (former) colliery area, which are within Ibstock parish. Topics covered include agriculture, employment, land ownership, the manor, religious history, schools, poverty and charity, clubs and societies, local government and much else, all from the first records to the end of 2019.
Links for those curating their own tour or wishing to revisit: