Our tour starts outside Ibstock Baptist Church, in Chapel Street. We're starting here because this is where Ibstock's first Nonconformist chapel was built, in 1814. It was then right on the edge of the village, and gave this street its name. As the board outside indicates, this is an active church with regular services (except during COVID-19 restrictions), and several connected groups and activities.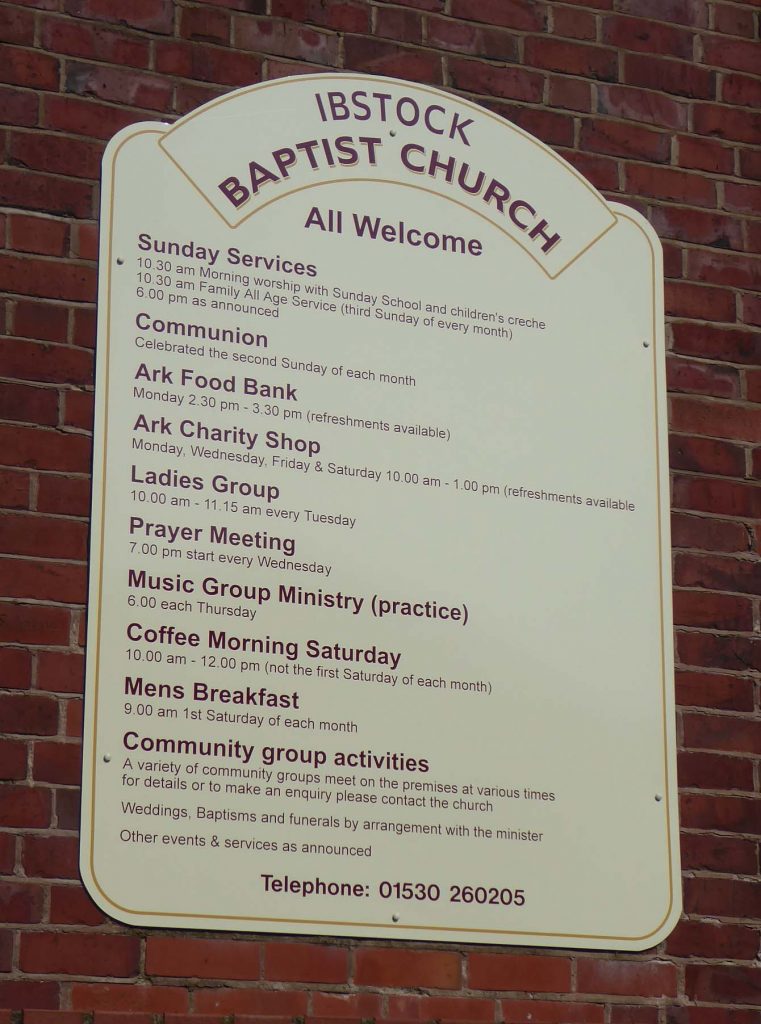 Religious differences exploded during the Civil War of the 1640s. Charles II tried to impose religious conformity when the monarchy was restored in 1660, with all ministers and schoolteachers required to confirm their belief in a series of core religious statements, and take services in a set form. Those with different beliefs, or who wanted a different type of service, came to be called Nonconformists. Nonconformists could not meet for worship without first obtaining a licence from the county magistrates.
Baptists believe that people should not be baptised until they are old enough to understand and profess their faith themselves. That set them apart from the Anglican church.
In 1798 Joseph Newbold, Edward Barrass, George Dean and Thomas Revel were granted a licence for worship in Samuel Pickering's house in Ibstock. Later records tell us they were Baptists. We do not know where Samuel Pickering lived, but in 1812 the members of Hugglescote Baptist Chapel (about 2 miles north-east of Ibstock) agreed that their members in Ibstock could have their own chapel. They bought the land where the right hand of these two buildings stands and built a chapel on it, which was licensed for worship and opened in 1814.
Everyone who lived in a parish was entitled to be buried in the parish churchyard outside the parish church, but a burial service could only be taken there by an Anglican minister, using a prayer book which did not allow a burial service to be said for the unbaptised. This could cause great distress, especially to Baptist families in a time of high levels of infant and child mortality because their children would not yet have been baptised.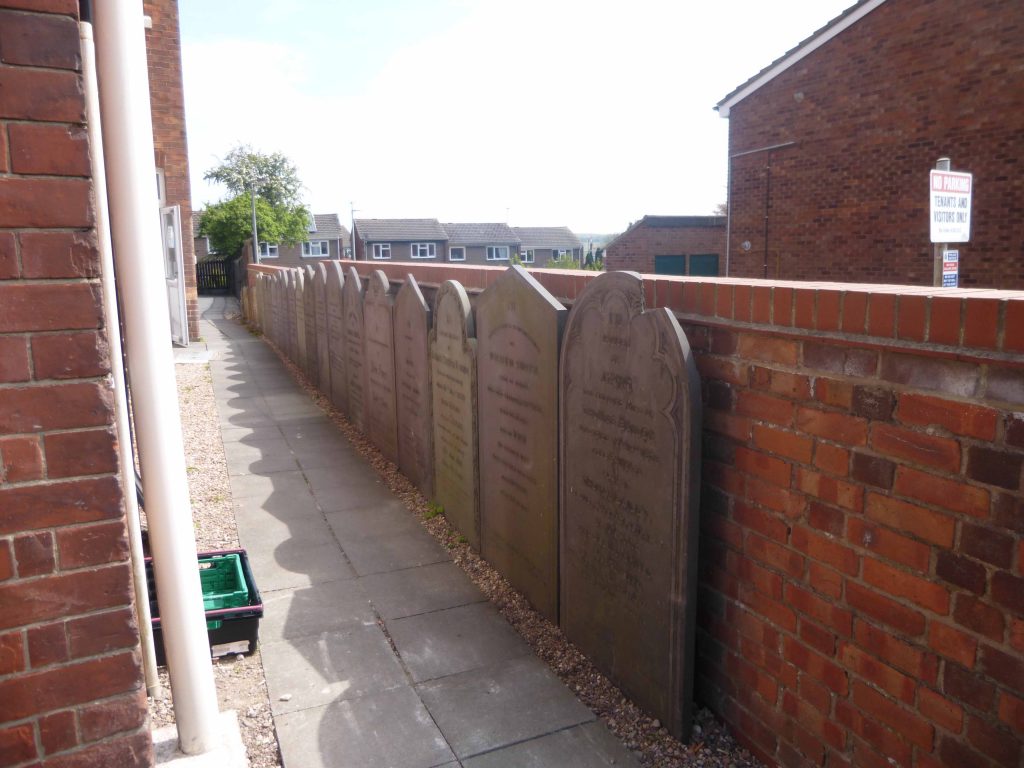 Baptist chapels therefore often had their own graveyard. The graveyard here was behind the church. It has been turned into a car park for church members to use, but the gravestones have been preserved and arranged along this pathway at the side of the building.
The congregation here grew. In 1829, 150 people worshipped here, and over 170 worshipped here in 1851. The right-hand building was extended in 1841, but was becoming too small again in the 1850s.
The building on the left is the new church, built in 1856, when the old chapel to its right was converted to become Sunday School Rooms. This was a period when Ibstock's population was expanding rapidly. The coal mine which opened in the north of the parish in 1825 was employing an increasing number of people in the colliery and its adjoining brickworks. (The colliery closed in 1929, and the brickworks is now part of Ibstock Brick Plc).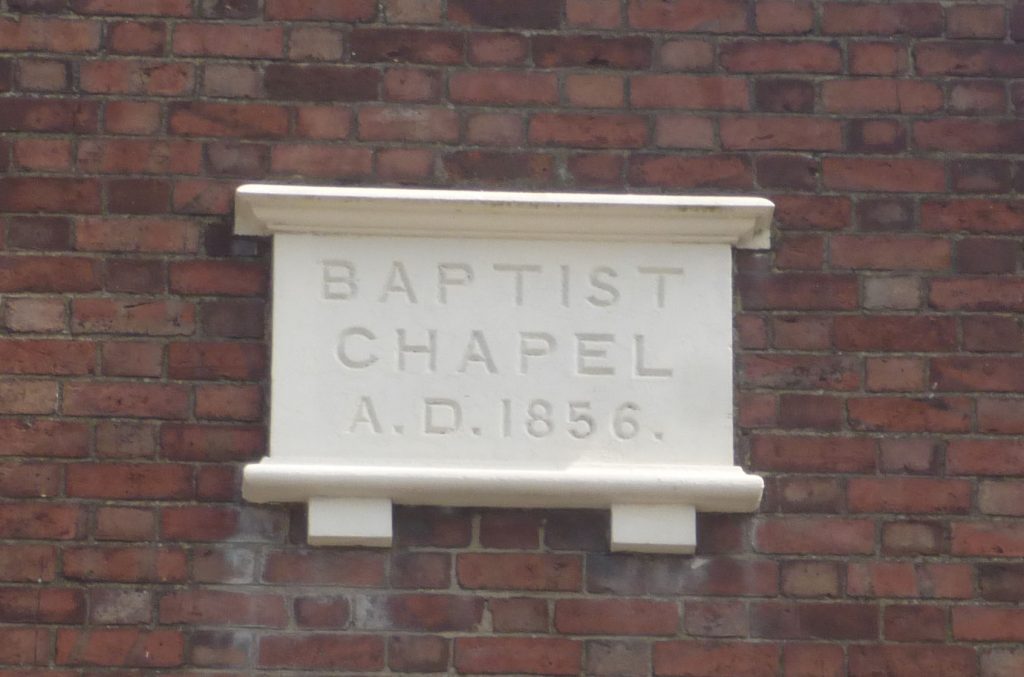 Ellistown colliery, in the east of the parish, opened in 1873. The population of Ibstock continued to expand. The new chapel of 1856 was extended in 1878.
What we see inside today is largely the result of further changes made in 1908. There is a gallery at the back, to increase capacity, and another at the front which is used now for musicians and leaders of the services, and perhaps always had that purpose. There is also a memorial to those members of the congregation who died in the First World War. Baptism is by full immersion, and the baptistry is under the carpet, which can be taken up when there is a baptism service.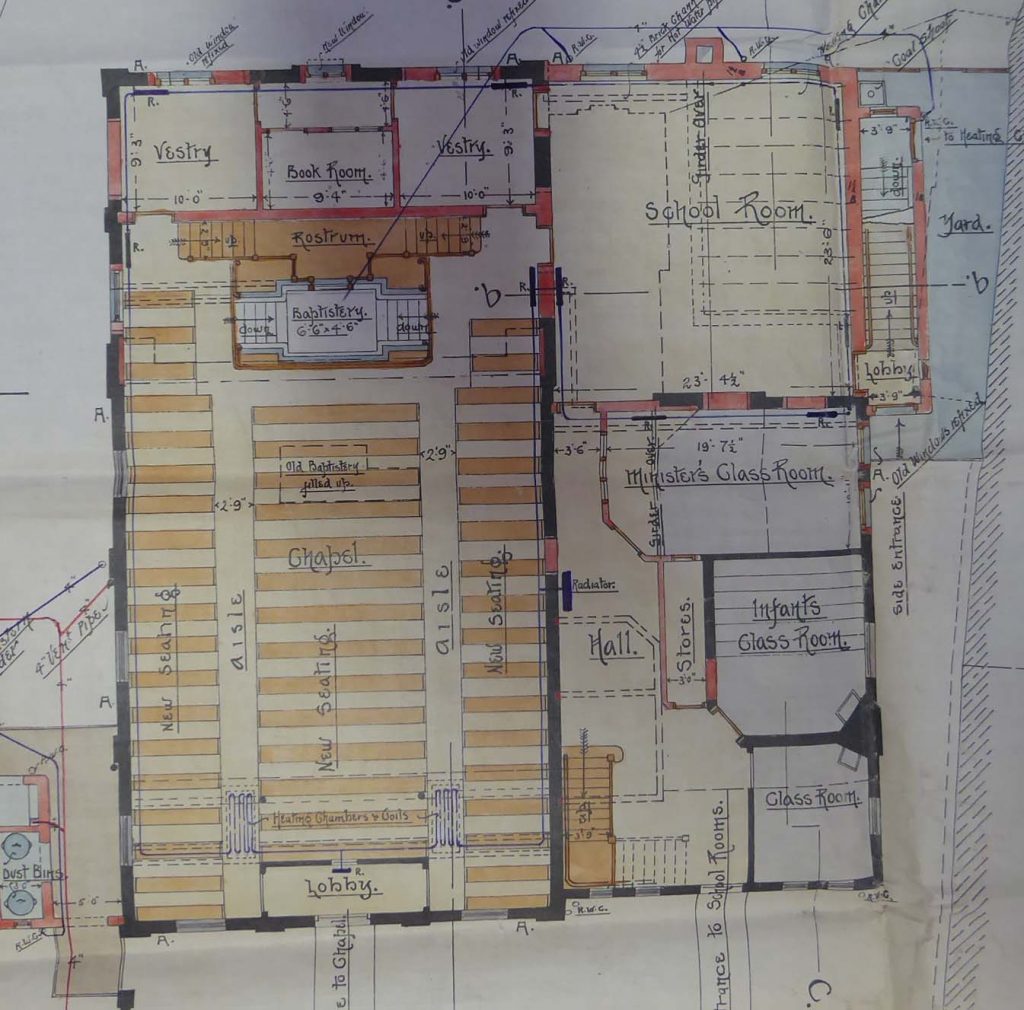 The Sunday School building was also enlarged in 1908. Smaller meetings and coffee mornings take place in there, and there is also a small display about the church's history.
We will now move on to the former Primitive Methodist church in Curzon Street. With your back to the Baptist Church, turn left and walk to the end of Chapel Street, where it meets High Street and Curzon Street. Turn left into Curzon Street. The former Primitive Methodist Church is immediately after the Waggon and Horses public house  (optional map).
Prefer to curate your own tour? Use these links: